What a career highlight. Whiskey is the liquid of storytellers. It is a drink that has longevity. It matures over time, deepening in flavour and meaning.
I have been looking forward to sharing this with you all. Here is the complete campaign to launch the 60-year-old expression of The Balvenie. What an honour.
The 360-degree content celebrates MBE David C. Stewart's skill and lifelong work. It includes a soulful product reveal and a series of hero shots taken up in Scotland.
What was at the forefront of my mind, both in the London studio and the distillery, was David's legacy and just how important this bottle is. It represents his journey. Having cast the whiskey back in 1962, it has matured throughout his career until now. A humble and kind man, his passion for whiskey and obvious skill made the project so precious and eye-opening for me as a photographer.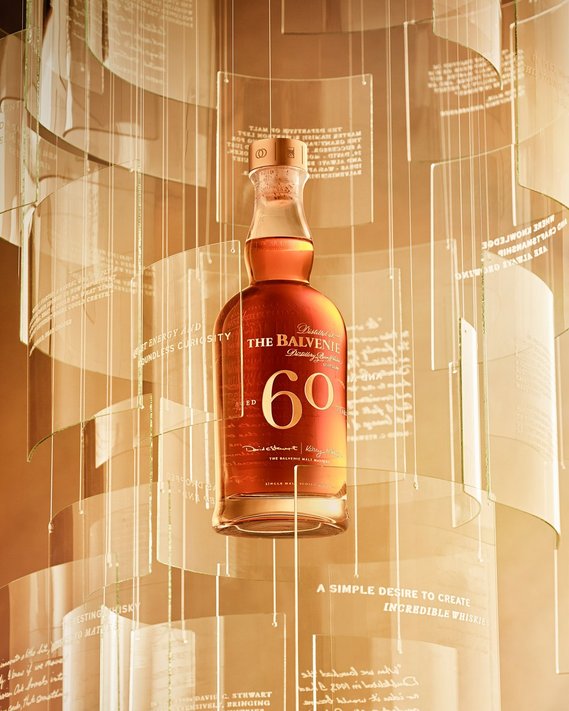 The ideas behind the still-life bottle shots were equally captivating. To put things into a bit of perspective, the rigging, the glasswork and the post-production effort were outstanding. This was especially thanks to the clear and creative involvement of the brand every step of the way. Each pain of glass was meticulously suspended from a rig that elegantly revealed the main character of the bottle at the centre. Each fragile panel was concaved and etched with a quote celebrating David and his career. This made up six layers of structure between the liquid and the edge of the frame, six decades worth of admiration for David's sensitivity and skill. A lovely sentiment, truthfully told.
When it comes to the overall tone, emulating a visual honey glow was essential to fulfiling The Balvenie's identity. This concept resonated with me, especially as a reference to light. Working with nature as my source of inspiration, I instantly form a connection with briefs that appreciate a clear and natural direction. This project allowed me to perform within the brand guidelines and contribute my interpretation. On top of utilizing reflective mediums and warm highlights, an IKEA lampshade did the trick. I bounced the light into the set to perfectly hit those mellow whiskey tones. Sometimes, creativity emerges from unexpected, humble sources.
If you know my work as a photographer, you will appreciate that I do not often shoot portraits of people. But in this case, it was so wonderful to be the sole collaborator for the entirety of this project. It allowed me to roll up my sleeves, engage and immerse myself in visually documenting David and The Balvenie's history. To be invited to take a trip up to Scotland and spend time at the distillery was priceless, witnessing firsthand the core truths behind the campaign.